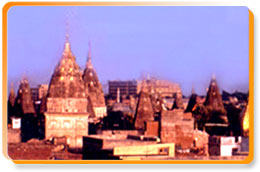 Jammu City
The city of Jammu, besides being the winter capital of the state, is also known as the city of temples. It is believed that Raja Jamboo Lochan originally founded the city in the 14th century. According to the popular legend, while the Raja was hunting one day, he happened to witness a tiger and a goat drinking water side by side from one and the same pond. He was so struck by this extraordinary phenomenon that he decided to build a city at this site so that the strong and weak could live together in peace and mutual tolerance.
Temples of Jammu
Situated in the foothills of the Himalayas, is the place that Raja Jambu Lochan discovered one day along the River Tawi, while he was on a hunting trip. To his surprise, he found that a tiger and a goat stood side-by-side, drinking water from the same place in the Tawi River. He was so struck by this unusual sight that he decided to build a city here where no living creature seemed to bear enmity towards each other
Museums of Jammu
In the north, Jammu's two museums display a valuable collection of miniature paintings collectively known as 'Pahari' school of paintings or hill school of paintings. In Srinagar, there is a Shri Pratap Singh (SPS) Museum, which is the only place in India where one can see stone sculptures of deities executed in the distinctive style that was a hallmark of Kashmir in the 7th to 11th centuries.