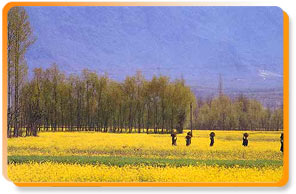 Dal Lake Kashmir
Dal Lake has rightfully become an icon of the Kashmir tourism industry. A Himalayan urban lake, it has five basins and a number of channels that are well linked with each other. There are plenty of fishes in Dal Lake and fishery is the second largest industry of the region centered on the lake. The sparkling quiet waters of Dal surrounded by snow-capped mountains on its three sides, undoubtedly mark it as one of the most beautiful lakes of India.
Kashmir Valley
Perfection beyond this world makes Kashmir a paradise. The land of sparkling rivers and sleepy lakes, of startling gardens and regal Chinar trees, Kashmir boasts of some of the most beautiful flowering meadows and snow-capped peaks. The abundance of natural beauty has earned the valley a nickname of the 'Switzerland of the East'.
Kashmir House Boats
The gentle sounds of rippling waters and the beautiful houseboats are the greatest attractions of Kashmir. Made up of cedar wood, these mesmerizing water boat residences have elegance and are complete with stately living quarters, drawing and dining rooms, carved wooden furniture, glowingly embroidered rugs and fabrics.