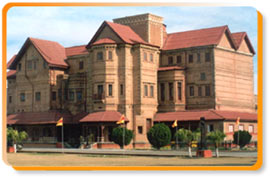 Set in a picturesque setting of Himalayas, Amar Mahal Museum and Library, is an epitome of royal grandeur and magnificence. It is a repository of books and paintings and attracts art lovers and historians from all over the world. The museum building forms the major part of the majestic Amar Palace, which has a French touch in its architectural style. A veritable storehouse of historical documents, it has rich collection of exhibits, including sculptures, paintings, inscriptions and books. The Durbar Hall exhibits the paintings and artworks of the Dogra rulers and the Golden Throne, the highlight of the museum, is a symbol of great historic significance.
The books in the Library range from religion, philosophy and political science to fiction besides the various bestsellers international authors. Housed in the first and second floors of Amar Mahal, the library houses over twenty thousand books collected by Dr. Karan Singh over the last fifty years, including some rare volumes from the Library of Raja Amar Singh. Visitors are often attracted to the suite once occupied by Maharani (later Maharajmata) Tara Devi, which has been preserved almost exactly as it was when she resided there, complete with the silver bedspread, the period furniture and photographs, her personal items of clothing and the unique Victorian bathroom. The decoration Crown of India, which she received in 1945, is also displayed there.
The Art Galleries of the Amar Mahal aim to promote Indian art and artists and present a spectacular picture in informal surroundings. Endowed with ethnicity and a soft touch of contemporary art setting, the galleries exhibit the collection of paintings ranging over different styles. These include Kangra style of Indian miniatures paintings and also the contemporary collection including works of renowned artists like M.F. Hussain, J. Swaminathan, G. R. Santosh, Bikash Battacharjee, Ram Kumar, Laxman Pai and many others.