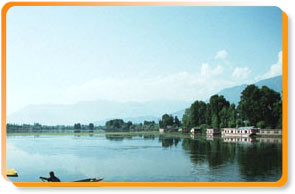 The state of Jammu and Kashmir stretches between 32.17o to 36.58o North and the altitude rises steeply from 305 metres to 6910 metres above sea level. There are the hot plains of the Jammu Province and coldest dry tableland of Ladakh. The area has different weather conditions at different places because of the lofty mountains like the Pirpanjal, the Zanskar and the Karakoram that check the moisture-laden from entering the valleys.
In summers, the outer plains and the outer hills receive rainfall from monsoon winds while in winters, winds from the Mediterranean cause snowfall and rainfall in the Valley of Kashmir. The moisture-laden winds cause rainfall in the forests on the hills making the temperature to fall in summer; hence, the thickly wooded areas such as Pahalgam and Gulmarg have milder weather conditions than that of Srinagar or Sopore. Similarly, the climate of the valley of Kashmir is comparatively milder than that of the Outer Plains as it is on higher altitude.
The unique climatic conditions found in the zone of the Middle Mountains and its valleys, are determined by the altitude, which in turn determines the degree of coolness and elevation the form of precipitation and summer temperature. Winters are cold and of long duration and with increasing altitude, it gets colder still, till there is snowfall in the higher mountains. Summers, however, are milder but are very short. Winters last from November to March. Spring begins after 15th of March and there is heavy rainfall during the season. Landslides often take place during this season. Humidity in the monsoon season stretching over July and August is as high as 70% and with increasing temperature in summers can be uncomfortable. During this season, the entire valley is covered with a thick fog blocking the surrounding mountains from view.
The seasons are marked with sudden change and a year can be roughly divided into six seasons of two months each:
1. Spring - From March 15 to May 15.
2. Summer - From May 15 to July 15.
3. Rainy Season - From July 15 to Sept. 15.
4. Autumn - From Sept. 15 to Nov. 15.
5. Winter - From Nov. 15 to Jan 15.
6. Ice Cold - From Jan. 15 to March 15.