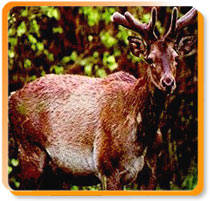 Dachigam National Park
A beautiful reserve, 22 km Srinagar, the capital city of Jammu and Kashmir, it stretches across an area of 141 square kilometers. With abundance of the most scenic natural beauty, the variation in its altitude is vast, ranging from 5500 ft to 14000 ft above the sea level. Thus, it is very clearly marked into an upper and lower region and the best times to explore these two areas are summers and winters respectively. The park has been a protected area since 1910 and its name literally means 'ten villages', which stands for the number of villages that were relocated for its formation. It was finally declared a National Park in the year 1981. Initially created to ensure clean drinking water supply for the city of Srinagar, it now houses many rare species within its premises including Hangul, or Kashmir Stag.
The entire appearance of park changes with the onset of each season. In the wintes, during the months of November to February, the park adorns a white cloak of snow. Hangul moves down to the lower regions in this season and is more easily sighted. Spring arrives in March and the ample greenery of the park stands in contrast with the preceding snow of the mountain slopes. Wild Cherry and other fruit trees give the lower regions a splash of pastel colors. Short summer season thaws out snow to unveil waterfalls and streams and even the higher regions are covered with vast grassy meadows and beautifully scented flowers. This is also the mating season for the Hanguls, which have already moved to the higher region are followed by the females and their recently born young ones during this season. August invites Autumn and the tree leaves turn to bright shades of red, gold, yellow and orange.
The flora of the park includes wild trees like Wild Cherry, Pear, Plum, Peach, Apple, Apricot, Walnut, Chestnut, Oak, Willow, Poplar, Chinar, Birch, Pine and Elm while the fauns includes, besides Hangul, Musk Deer, Leopards, Himalayan Gray Langurs, Leopard Cats, Himalayan Black Bear, Himalayan Brown Bear, Jackals, Hill Fox, Himalayan Weasel, Yellow Throated Martens, Jungle Cats, Long Tailed marmots and Otters. Some of the main bird species found here consist of Cinnamon Sparrows, Black Bulbuls, Monal Pheasants, Golden Orioles, Kokla Pheasants, Choughs, Warblers, Buntings, Streaked Laughing Thrushes, Minivets, Pygmy Owlets, Woodpeckers, Babblers, Wall Creepers, Black and Yellow Grossbeaks, Himalayan Griffons, Bearded Vultures, Redstarts, Wagtails, Laughing Thrushes, Red Browed Finches, Himalayan Ruby Throats, Long Tailed Blue Magpies and Tits.