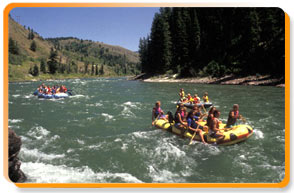 The valley of Kashmir is as famous for its rivers and lakes as it is for its beautiful mountains. More than just an object of beauty, the waterways offer activity-oriented leisure sports too. While the more sedentary ones may opt for a Shikara boat ride, which have sprung-cushion seats and chintz curtains, on the Dal and Nagin lakes in Srinagar, the others may opt for motorboats or go for water skiing. There are people who live in boats called Doongas and claim to be descendants of Noah, constantly sailing on the Jhelum River of Srinagar. One may see the old city of Srinagar while cruising on a slow boat that can be hired from them. As one passes under the numerous bridges spanning the Jhelum, the river changes character as it widens and meanders past visages in the valley.
However, it is the white water rafting on the two mountain streams of River Indus and River Lidder that is the favorite of the adventure enthusiasts. Rafting is a very recent sport in Kashmir. The Indus in Ladakh, in particular, has three portions that are ideal for this sport - a half day run for amateurs from Phey to Niemo, a two day exciting run from Phey to Alchi on the first day and Nurla on the second day with a choice of going further to Khalsi. The Zanskar River, also in Ladakh, can offer professionals six days on rapids that begin at Padum and passes through the picturesque Zanskar valley. The best season is August to September. Similarly, the River Lidder near Pahalgam has two short stretches suitable for white water rafting, especially for day trips. As the gradients are not steep, they are excellent for the first timers.
White water canoeing also has has extensive possibilities in the rivers of Lidder, Sindh, Drass, Suru, Indus, Zanskar, Chenab and for the less adventurous, even the Jhelum. The high altitude lakes of Tarsar, Marsar, Kaunsarnag, Kishensar, Vishensar and Gangabal could also be interesting for canoeing, thought the sport has not yet caught on here. Similarly, no one has yet tried diving in the lakes of the valley and it will be certainly a fun to discover the truth of the legendary city, which is believed to lie at the bottom of Wular Lake and the popular belief that Manasbal Lake has no bottom.