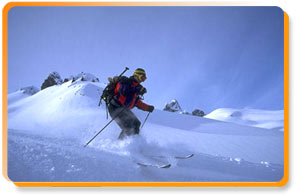 Skiing in Jammu and Kashmir is a thrilling and exciting experience for any adventure enthusiast. The Ski Club of India was established in Gulmarg in 1927, which is now considered as the ski paradise of India. Just 50 km from Srinagar, situated at an altitude of 2,730 m, Gulmarg changes its scenery from a flowery meadow to that pf a small ski resort in winters. Ski-lovers from all over the country flock to the place because it is the only ski-resort in the mighty Himalayas where you can ski with a magnificent view of the Karakorams and also the cheapest one in the whole world to learn skiing. Gulmarg provides an altitude difference of over 1,500 m with lengths of more than 10 km. However, only a ski-mountaineer can reach these higher slopes. The beginners may hire any of the four ski lifts or a chairlift.
Here, the latest Austrian and French equipment is available on hire and the ski school known as the Indian Institute of Skiing and Mountaineering, which conducts 10 day and 21-day short ski courses for beginners and advanced skiers. The best season for skiing is mid-December to mid-April and the road is kept open to Gulmarg with the help of powerful German machines throughout the winter. There are cross-country runs apart from downhill skiing and there are delightful excursions to the shrine of Baba Reshi through the 'powder chute'. Heli-skiing is the recent addition to the place and there are numerous possibilities of finding new tracks throughout the winter season. A look for a helicopter is even more majestic.
There are other places apart from Gulmarg, where one may find the pleasure of skiing including Srinagar. Ski tours from Pahalgam to Sonamarg through high mountain passes are not only demanding but also exciting. Wardwan Valley of Ladakh also attracts some ski-enthusiasts during the season.