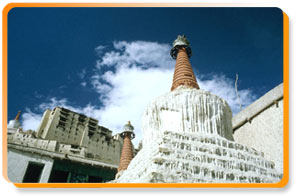 The captivating Leh Palace rises from the edge of a hill overlooking the town and at once looks like a reminiscent of Lhasa's Potala Palace. Though deserted, it has some definite mystical quality about it. The Palace was built in the middle of the 16th century by King Singe Namgyal and still belongs to the royal family that now lives in the Stok Palace. The nine-storeyed monument is now in ruins. The palace remains locked and may be opened at request by a monk.
The Palace has a museum with some tangkhas (painted or embroidered scrolls) and paintings on its display. The view from the monastery above the Leh Palace is quite impressive. It is known as Namgyal Tsemo Gompa (monastery). The red monastery has some frescos, Buddhist scriptures, idols and a massive statue of the Maitreya Buddha (future Buddha).
The striking Shanti Stupa is a recent structure. A Japanese who harbored the ambition of spreading Buddhism across the world, had it constructed in 1985 with aid from the Japanese Government. A motorable road and a steep flight of stairs connect the Stupa to the town, where one can relax and enjoy the panoramic view of the chain of mountains and the peaceful little village of Changspa with typical Ladakhi houses. The stream flowing near the village and the towering Namgyal Tsemo in the distance, are also visible from here.