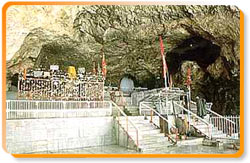 145 km from Srinagar, the holy shrine of
Amarnath
is situated at an altitude of 4,175 m above sea level. Covered by snow from September to June, the harsh weather conditions obstruct the path of the visitors and it is only accessible during the monsoons, from
July to August
. According to the popular legend, Lord Shiva distributed celestial nectar among the gods and made them immortal. The word 'Amarnath', thus means, 'Lord of Immortality'. There is a mention of this ancient shrine in the first historical treatise on India, Rajtarangini by Kalhana.
One of the
most important Hindu pilgrimage centers of India
, the devotees believe that in every lunar month, the
icy Shivalinga
in the cave of Amarnath begins to take its shape on the first day of the bright half of the month. The Linga reaches its full size on the full moon day and then begins to wane and disappear on the no moon day. The
Amarnath cave faces south
and inside the cave, there are four to five ice formations resembling figures of various deities. According to the tradition, the largest one is accepted as Amarnath, one on its left as Ganesha and ones on the right as Parvati and Bhairava respectively.
The
145-km trek
from Srinagar to Amarnath cave is full of adventures, beautiful landscapes, and pilgrimage sites. Due to the accidents that have taken place in the past, now one can travel to the place only under the vigil of Indian officials. The trek begins on the fifth day of the bright half of the lunar calendar from Dashnami Akhada in Srinagar. The first important pilgrimage site of the trek is
Martand
, known for its ancient temple dedicated to the Sun God. There are famous shrines of Bab-zain-ud-din Wali at
Aishmuqam
while
Pahalgam
presents the confluence of the rivers Sheshnag and Liddar and a number of Muslim shrines to the visitors.
Enroute are the famous temples of
Anantnag, Deviangan, Bijbehara, Akingam, Lukbhavan,
and
Nagdandi Ashram
along with the shrine of Baba Hyder Rishi situated Anantnag.
Chandanwadi
, is again the confluence of the rivers Asthan Marg and Sheshnag while it is believed that at
Pishu Ghati
, the Gods crushed the Demons. The origin of the river of the same name,
Sheshnag Lake
is situated at a height of about 12,000 feet above sea level.
Wavjan
lies just before the steep climb to the Mahagunus Pass and is situated at an altitude of 14,000 feet above sea level. It also marks the last climb in the trek to Amarnath, after which there is a downy slope leading to
Panchatarni
. The Amarnath Yatra, is so planned as to reach the Amarnath cave on the full moon day.
Chari Saheb
, the holy scepter, leads a procession starting form Srinagar to Amarnath during the annual festival held here during the Shravan month of the Hindu calendar. It is held to celebrate the formation of ice Shivalinga on the full moon day.