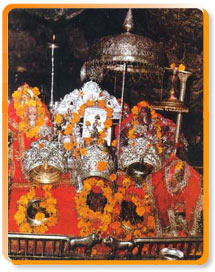 One of the
holiest Hindu pilgrimage
in North India, it is
a cave shrine
of the Mother Goddess, who is said to be the merger of three mightiest deities of Maha Kali (Goddess of power), Maha Saraswati (Goddess of knowledge), and Maha Lakshmi (Goddess of wealth). The number of pilgrims who come here to pay homage to the Goddess keeps on swelling year after year. It is believed to cleanse the spiritual persona and bless a true devotee with resuscitation for the heart. Nestled amidst the
Trikuta Mountains
, 61 km north of Jammu, Vaishno Devi is perched at a height of 5,200 feet above the sea level.
Katra
, a town situated at the foot of the Trikuta hills, serves as the base camp for the Vaishno Devi shrine. It is open all the year round but it is difficult to cover the route during the winters as it is often blocked by snowfall.
As with all the major Hindu pilgrimage centers, a
fascinating legend
attaches itself to the shrine of Vaishno Devi. More than 700 years ago, Vaishno Devi who was a devout devotee of Lord Vishnu and wanted to marry him. She procured his reassurance that he will take her as a wife through rigorous meditation. However, when he incarnated in the form of Lord Rama, he was married to Goddess Sita and told her that he would fulfill his promise in some other incarnation. Vaishno Devi, then took a vow of celibacy until that day. One day,
Bhairon Nath
, a demon-God, saw her and gave her a chase. On the way, she felt thirsty at
Banganga
and shot an arrow into the earth from where water gushed out.
Charan Paduka
, marked by the imprints of her feet, is the place where she rested. She then meditated in the cave at
Ardhkanwari
. It took Bhairon Nath nine months to locate her. However, the Mother Goddess escaped from his hands by blasting an opening at the other end of the cave and furious at Bhairon Nath's viles, she assumed the form of Maha Kali and cut off his head, which fell at the place where the Bhairon Temple is now located. The boulder at the mouth of the holy cave, according to the legend, is the terrified torso of Bhairon Nath who was granted divine forgiveness by the benevolent Mata in his dying moments.
It is said that the five
Pandavas
of Mahabharata built the holy cave shrine of Vaishno Devi. At the mouth of the original tunnel to the holy cave, there are symbols of other gods such as
Vakra Tunda Ganesha
(the Elephant God),
Surya Dev
(the Sun God) and
Chandra Dev
(the Moon God). One has to crawl in the tunnel to reach the cave shrine and has to cross over the Dhadh (body) of Bhairon Nath. Launkra Beer (a form of Lord Hanuman) can also be seen here, who is said to have been posted as the guard at the gate while she was meditating in the cave. Twenty-three feet beyond
Launkra Beer
, one can see the innumerable heads of
Shesh Nag
, supporting the roof of the cave.