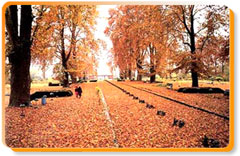 The
summer capital of Jammu and Kashmir
, Srinagar is a scintillating hill resort located ideally in the Kashmir valley. Lovely lakes and
roomy houseboats, dry fruits, Chinar trees
and traditional Kashmiri handicrafts are the highlights of the region. Mughal Emperor, Jehangir, was so astounded by the beauty of Srinagar that he exclaimed 'Gar firdaus, ruhe zamin ast, hamin asto, hamin asto, hamin asto', which means 'If there is a heaven on earth, it's here, it's here, it's here'.
Jhelum River
flows through Srinagar, the city of natural wealth and is often referred to as the
land of lakes and gardens
owing to the abundance of both.
Dal Lake
has become an icon of Srinagar but there are several other lakes on its eastern side,
Nagin Lake
being the most famous one. A ride on the '
Shikaras
' or the floating gardens is a delight in itself and the backdrop of the sunset infuses a magical charm to the panoramic views of the lake. The favorite of Mughals, Srinagar has many well laid out Mughal styled gardens such as
Chashme Shahi
or the Royal Spring,
Shalimar Bagh
or the Garden of Love and the
Nishat Bagh
or the Pleasure Garden, on the far eastern side of the Dal Lake. The waterworks in the gardens add to their rich greenish beauty. While animal lovers would like an excursion to the
Dachigam National Park
, the wildlife reserve 22 km from Srinagar,
skiing in winters
attract the adventure lovers to Srinagar but it is living in the beautiful houseboats on the Dal Lake, which is to be missed by none.