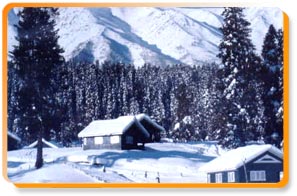 Gulmarg is a hill resort of repute, not only for its beauty and prime location but also as being the highest natural golf course of the world, situated at an altitude of 2890 m. Hub of activity from mid-December to March, Gulmarg is an enviable winter sports resort with all the equipment and training facilities available for skiing, tobo-ganning, ski-bobbing and paragliding along with a T-bar lift, a chair lift and three modern ski-lifts.
53 km from Srinagar, Gulmarg is known as the meadow of flowers and was once a favorite haunt of Emperor Jehangir who collected 21 different varieties of wild flowers from here. It is the best Ski resort in the country and maintains the high-quality service. It also holds a position as one of the highest lift served Ski resorts in the world. It is the first place to offer heli-skiing in Asia, where a helicopter takes one to the chosen peak from where one can choose one's own descent route. Sledges and snow cycles are also popular here during winters and trekking opportunities here are numerous.
The 18-hole Gulmarg Golf Club is in existence for 100 years and was established by Sir Neville Chamberlain. The Clubhouse, with its sloping roof, has a rare character. Golfing holidays here during summers are popular in this lush green bowl covered with a variety of alpine flowers with snow fed streams and rivulets passing through it.
Apharwat Lake is frozen until mid-June and even after that, one can see ice floating in the river. For the more adventurous trekkers, climbing straight up the boulder-strewn slope of the ridge and descending on the other side to the path is a thrilling exercise. For those who love horse riding, Alpather Lake makes an exciting excursion for a day, starting early morning and returning late evening.