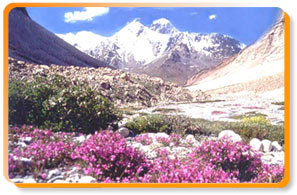 The hidden kingdom of the hill resort of Zanskar is famous for its
snow-white high hills
and gorgeous Gompas or monasteries. The lovely and spectacular landscapes and the Buddhist culture heavily influencing the lifestyle of the inhabitants of the Zanskar Valley instantly mesmerize one. The word 'Zanskar' literally means
the Copper Star
and it is so named because the various rivers flowing into Zanskar carry copper sediments. Situated across the Suru Valley and over the Pensi La in the Ladakh region of Jammu and Kashmir, Zanskar is situated 235 km from Kargil. The high altitudes of the Zanskar valley make it
inaccessible in winters
due to the extremely harsh weather conditions and the water of the
River Zanskar
freezes to become the
Chador road
. However, one can visit the area in the summers.
One of the isolated and scantily inhabited Himalayan Valleys, Zanskar not only boasts of snow-covered peaks and
two small alpine lakes
but also the most breathtaking views of the
Drang-Drung glacier
.
Panikhar
situated at the border of the Suru Valley is a must-see, where
the fort of Zorawar Singh
is a major tourist attraction. The
Penzella Pass
divides the Zanskar valley from the Suru Valley and is an
excellent camping site
as it is a vintage point offering excellent views of the majestic mountains and the captivating countryside.
Karsha
is a typical human settlement with just the basic facilities and the
Gelugpa monastery
, which is a telltale of the importance of the religion in the lives of the inhabitants of Zanskar. The mural art displayed at
Labrang
is not to be missed too. Though the mountains seem isolated but there are several places associated with the
Tibetan Buddhists
here that are worth exploring. It is a place for the adventure enthusiasts who can opt for
river rafting
from Serchu to Nyimu via Padam or
trek
along to Panikhar or Rangdum over the
Pentse La
, into the Zanskar Valley from Lamayuru, Leh or Darcha, from
Padum
to the
Markha valley
and so many others. However, the climatic conditions must be kept in mind while choosing the trek.