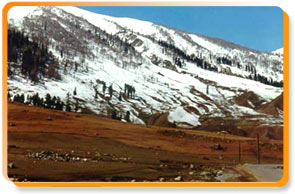 Sonamarg means a
meadow of gold
. A tranquil valley set amongst glaciers and placid lakes, it has flower-laden meadows, panoramic views of the snow-covered Himalayan peaks and a number of
trekking and hiking trails
. Situated in the western part of the state of Jammu and Kashmir, it is set an altitude of 2740 m above sea level and is surrounded by the Himalayas. 80 km Srinagar, Sonamarg has
alpine weather conditions
with mild and pleasant summers from April to June and chilly winters from November to February accompanied by heavy snowfall. Surrounded by some of
the highest mountain ranges
of the world, the sparkling snowcapped mountains reflect the golden rays of the sun to give Sonamarg its name. One can see magnificent views of snow-clad ranges and attractive meadows enroute while going to Sonamarg from Srinagar. Wonders of the nature abound in Sonamarg in its
quiet meadows
and flower-carpeted fields.
Hiking and trekking Sonamarg and the areas attract the adventure-seeking tourists. A spur of the
Thajiwas Range
covered with pine, fir, and birch trees divides the Sonamarg valley and has a number of camping sites nearby. On the other side of the spur, are a number of waterfalls and the captivating
Thajiwas glacier
. There are trekking routes from Sonamarg to the Himalayan lakes of
Vishansar
at an altitude of 4080 m above sea level,
Krishansar
at an altitude of 3810 m above sea level and
Gangabal
at an altitude of 3658 m above sea level. The trek to
Gadsar Lake
with its abundant snow trout and the frozen
Satsar Lake
surrounded by alpine flowers and trees, trekking to
Baltal
, which 15 km from Sonamarg is a delight. Situated at the foot of the Zojila pss, it the gateway to the land of Ladakh.